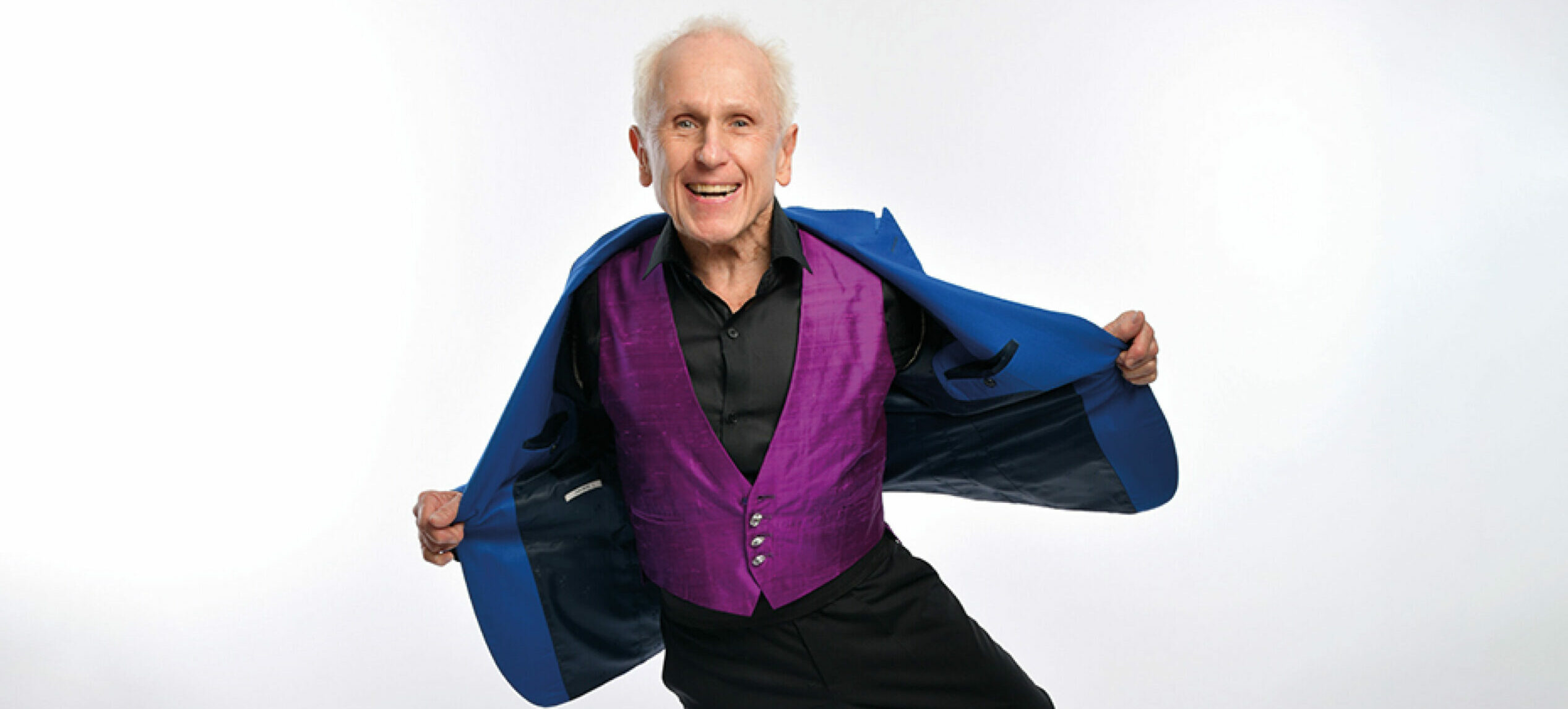 An Audience with Wayne Sleep – Oct 2022
An Audience with Wayne Sleep – Oct 2022
An Audience with Wayne Sleep – Oct 2022
October 9, 3.00pm
Book Now
Wayne Sleep looks back over a glittering career spanning five decades, with a little bit of dance and the unique opportunity of a Q&A. Using rare film footage and photos Wayne will run through career highlights including The Morecambe and Wise Show, starring alongside Sean Connery and appearing in The Real Marigold Hotel. He will also talk about his long-standing association with the Royal Family and his close friendship with Diana, Princess of Wales. Of course, any evening with Wayne wouldn't be complete without a dance step or two and the audience will not be disappointed.
Empty
Empty
Empty
Empty
Empty
Empty
The Life of Dancer Wayne Sleep OBE – Wayne Philip Colin Sleep has been a leading light within the world of dance for over fifty years. His talent as a dancer, director, choreographer and actor has earned him national praise and prestigious accolades throughout a startling and lengthy career.
He is perhaps most famous for having danced with Princess Diana at the Royal Opera House in 1985. Yet even beyond this memorable performance, when Wayne Sleep retires he will have left behind a legacy of excellence, resilience in the face of adversity, and integrity within the world of dance.
Life and dancing with Royal Ballet dancer Wayne Sleep
So, how did Wayne Sleep become the acclaimed dancer we know today? How did he get his start in the world of dance? What led to his famous friendship with Princess Diana? And what has he been up to lately? To know the answers to these questions and many more, let's take a deep dive into the inspiring life of Wayne Sleep.
Childhood
Born in 1948 in Plymouth, Devon, Wayne Sleep was dancing as soon as he could walk. His mother, Joan Sleep enrolled him at the Geraldine Lamb Dance school at an early age where his obvious talent was nurtured. At the school he studied tap and jazz, showing a proficiency in both disciplines and an enthusiasm to learn more.
Wayne dreamt of being the next Fred Astaire or Gene Kelly rather than a ballet dancer. He noted in an interview with the Guardian, "Watching Fred Astaire and Ginger Rogers on my family's black-and-white TV…I realized I wanted to go on the stage." As with many artists who go on to earn great acclaim, the spark of inspiration was felt at a young age and left a significant mark on the way he chose to live his life.
In 1951 his family moved to Hartlepool and he lived there for ten years. It was in Hartlepool that Wayne first started to gain an interest in ballet. He began ballet lessons in Hartlepool in 1955 with Muriel Carr at the acclaimed Hartlepool Dance School. Alongside a number of other budding dance enthusiasts, Wayne went about learning the basics of ballet and honing his dance skills.
His big breakthrough came in 1961 when he earned a Leverhulme Scholarship to The Royal Ballet school. In an interview with the Guardian, he remarked on the significance of this scholarship. "…there were 350 people, and only two scholarships". These are the sorts of odds that would deter regular folk but Wayne Sleep persevered, securing the prestigious scholarship and beginning his path towards dancing fame and fortune.
At The Royal Ballet School his intensive training really began. The world of ballet is notoriously competitive and cutthroat with only the toughest able to survive and forge a successful dance career for themselves.  Even so, his talent and willingness to work hard served him well during his years at the school. This attitude helped him most of the time but occasionally earned him some harsh comments. To this day he believes the worst thing anyone ever said to him was when he was thirteen and a teacher accused him of being big-headed. This comment deeply affected him and he stills remembers coming home and crying to his mother about it.
His next big breakthrough came when he was only seventeen, when he played Napoleon in Cinderella with the main Royal Ballet company. According to Sleep, "They needed a small man; I was the smallest in the school, so I got the part – and a contract with the company."
His small stature, which is so often a disadvantage in ballet companies that are obsessed with finding people that are the perfect size and shape, turned out to be the difference that helped him get his foot in the door.
Of course he wouldn't have been able to get there in the first place without showing prodigious talent. It was this talent that made him stand out and helped to kickstart a dance career that led to dancing with Princess Diana, featuring on the biggest stages in the world and becoming a true national treasure.
Dance Career
Wayne Sleep joined the Royal Ballet in 1966 and has been dancing for adoring audiences ever since. We're dealing with a dance career that spans over fifty years so it is difficult to truly encapsulate everything that he accomplished. Below we've highlighted some of the standout moments and explored why he has made such a significant impact on the British dance industry.
At 5 ft 2, Sleep is the shortest male dancer that has ever been admitted into The Royal Ballet School. At first directors were reluctant to cast him in the traditional male lead roles. Therefore, after a few years unique roles were created to accommodate his stature and style. Noted choreographers including MacMillan, de Valois, Layton, Ashton, Nureyev, Neuemeier and Gillian Lynne all created roles for Sleep and he starred in several celebrated productions for The Royal Ballet during the 70s, 80s and 90s.
His dance career also goes way beyond The Royal Ballet and he has made many significant theatre, TV and Film appearances. In particular, Sleep created the role of Mr Mistoffeless in Andrew Lloyd Webber's musical Cats in 1981. A few years prior, in 1973, Sleep also established a world record by completing an entrechat-douze on the British television programme Record Breakers. The entrechat-douze is an astonishing feat of athleticism and skill that requires an individual to jump up in the air with twelve beats of their feet.
In his later years Wayne Sleep hasn't been shy about the demands of making it as a professional ballet dancer, saying in 2014 that "the ballet world is probably the most exhausting, difficult, demanding form of the arts you could possibly go in for. You have to be a perfect size, the perfect weight, the perfect look. Even if you're the best dancer in your year as a graduate, unless you fit the credentials of being perfectly shaped and formed, you don't stand a chance."
Sleep's dancing career expanded beyond ballet when he formed his own dance company, DASH, which aimed to include the best contemporary, tap, jazz, and ballet dancers in the country. He noted that, "Everyone had to be able to do all of those four disciplines, which was the first time it had ever been done."
He has always been a pioneer. And since making his debut for The Royal Ballet he has been a much sought-after performer across the world. Sleep is often called upon to perform at significant British events. For example, in 2017 Sleep performed at Dame Vera Lynn's 100th birthday celebrations at the London Palladium. While he was derided by some for "going commercial" when he worked on the West End, his dance career at The Royal Ballet has never really flagged.
However, his career has taken a physical toll. In an interview with the Guardian when asked whether he suffered for his art?, he replied "Yes, of course. I've had four screws put in my shoulder, I've torn my medial ligament, I've sprained my ankles about six times, I've broken my metatarsal and big toe, and I've just had a hip replacement. Dancers are never out of physio."
If you want to see Wayne Sleep in action check out this short clip of Wayne Sleep and Rosemary Taylor performing the Neapolitan Dance from Swan Lake.
The Royal Family and Princess Diana
Outside of his fame as a member of The Royal Ballet, perhaps what Wayne Sleep is most known for among the general public are his connections to the royal family and in particular to Princess Diana.
Sleep and Princess Dianna met in the early eighties and quickly became friends. In an interview with Vulture, Sleep talked about his relationship with Princess Diana: "When me and Diana did meet, we had something in common in a funny sort of way, and that bonded us. She was a bit of a loner and that's something we had in common." Diana wanted somebody to teach her to dance and she saw Sleep as the perfect instructor. However, Sleep was almost constantly on tour around the world with his dance company DASH, and his hectic schedule meant that he asked his dance captain to stand in for him as tutor.
When they eventually met for an in-person lesson, Sleep remembers that Diana said, "I'd like to dance a duet with you". In an interview he said that, "I thought she must be crazy! It could be taken the wrong way, or she could get a much taller and more handsome boy from the ballet. But she was insistent and said, No, I want to do it with you, I want to be your uptown girl. I was like, You already are my uptown girl, darling, and you know it! She told me she got a recording of Billy Joel's "Uptown Girl" and she wanted it to be a surprise to her hubby for Christmas. She didn't want him to know about it."
So, in 1985, Sleep ended up performing with Princess Diana at the annual Christmas party for the Friends of Covent Garden at the Royal Opera House. They worked on the dance number for a few weeks. Later Sleep noted that, "It wasn't a serious dance by any means. It clocked in at three and a half minutes. We brought the house down with humor because they didn't know what was coming next. I did double pirouettes and we did a lift, and there was also a combination of jazz hip rolls. It was very dynamic but nothing too difficult."
In 2020, Sleep was portrayed by dancer Jay Webb on the TV series The Crown, during its re-enactment of Sleep's performance with Diana, Princess of Wales at the Royal Opera House.
In an interview with Vulture on The Crown's reinterpretation of their dance, Sleep said that, "It's brought home to me how much our friendship meant to each other. After watching The Crown, I realized the main thing I'll be remembered for is dancing with Diana. You can understand what an impact that had. I could've never realized that a three-minute dance would be that epic — even worthy enough to be included in The Crown. It was a statement from her that said, I've tried everything, but now I'm going my own way. I think that's what was told underneath…That became her statement of independence."
Sleep's performance with Diana was an incredibly important moment in his career and one that was quite unexpected. Although he has gone on to accomplish many more things in his dancing career, his three and half minutes on stage with Princess Diana will probably be his most memorable performance, and this is despite the fact that there is no visual recording of the dance.
Television Appearances
Wayne has been a presence on British TV as a dancer, actor and reality TV star for many years now. His host of credits include playing Tigger in Winnie the Pooh, appearing on The Goodies, being the subject of This is Your Life in 1981 and starring in pantomime productions of Beauty and the Beast at the Theater Royal, Windsor.
Some of his most notable appearances on the small screen have been in reality TV shows like Celebrity Big Brother 2018, Celebrity Masterchef, I'm a Celebrity… Get Me out of Here! in 2003 and The Real Marigold Hotel. 
In 2017 he featured in The Real Full Monty (ITV) and helped to celebrate the original movie's 20th anniversary. The show and his appearance helped to raise awareness and support for prostate and testicular cancer.
He has also appeared in a number of dancing TV shows where his expertise and status in the dancing world has helped him judge young dancers and raise the profile of ballet among a TV audience. In particular he hosted the Channel 4 show Big Ballet in 2014, a short-running TV series about ballet dancers that do not conform to the normal ballet standards for body shape and size. In an interview about the show Sleep said: "When I heard that some of these girls and boys from the ages of 9 and 10 were excluded from ballet class because they were chubby, or not the right size, it made me angry and that anger turned into a support for these people. Why shouldn't their story be told? [After all] I'm not here to put ballet down. I'm here to lift it and make it more popular which I hope we have achieved at certain points of my career."
Health
Sleep has battled various illness and health difficulties in recent years. In 2010, he had a hip replacement. This major surgery had the potential to completely end his dance career. However, in typical fashion Sleep persevered with intensive rehab following the hip replacement surgery and was back dancing with The Royal Ballet after only 12 weeks. He was quickly able to regain his typically lithe and precise movement and help out the company with the new productions.
In 2015 Sleep suffered another setback when he was diagnosed with prostate cancer. In a Q&A with YourLaterLife, Sleep spoke about his cancer saying, "I was diagnosed with prostate cancer a few years ago, which came as a big shock. But I'm one of the fortunate ones and have recovered. Being faced with health challenges  just makes me more determined to keep going." He revealed his diagnosis to the public and has since become an ambassador for Prostate Cancer UK, drawing attention to the illness and helping to raise money.
Wayne's prostate cancer was discovered inadvertently when he went in for a regular round of blood tests. In an article he wrote for The London Economic, he stated that, "It took having prostate cancer to realize how vital it is that as men, we need to take notice of this disease. If you are a man over the age of 45 or have had someone in your family that has had prostate cancer, leave your pride at the door and go and have a conversation with your doctor… As a proud ambassador for Prostate Cancer UK, I speak to a lot of guys, and encourage them to know the risk and speak to their GP about any concerns."
His Legacy
Wayne Sleep has an enduring legacy both within and outside the world of dance. The Wayne Sleep Foundation, which helps to support dance students through scholarships, is a successful initiative that he is particularly proud of. Today the foundation supports hundreds of promising dance students and ensures that young dancers from a diverse array of backgrounds are able to begin their careers without having to worry too much about money.
In a Q&A with YourLaterLife, Sleep stated that he "enjoys spending time with the next generation of theater performers and dancers, via my charity The Wayne Sleep Foundation. I set it up over 20 years ago and do many fundraising activities as well as meeting with young performers to pass on my knowledge and expertise." His foundation, and his continual proactive effects within the realm of dance, has helped to ensure an unbroken line of expertise and knowledge between dancing generations.
Sleep is also an ambassador for The Royal Voluntary service. In an interview, Sleep said that "My late mother, Joan Sleep, was a stalwart of the WVS as it used to be known and it played a big part in her life. I feel I'm continuing a family tradition by lending my support as ambassador [to the Royal Voluntary service]. I fully support its purpose of helping people age better and get the best out of life. Since becoming an ambassador in 2016, I've been incredibly lucky to meet many of its wonderful volunteers – without which none of its services would be possible."
Outside dance and charity, Wayne also has an interest in art. His favorite artist is David Hockney, who has painted him a couple of times and he owns a number of Hockney's works. In an interview with the Guardian he talked about his relationship with Hockney and art saying that, "the best was a drawing he did of me in a chateau in the Dordogne. About 20 of us used to go there – Hockney, Terence Conran, Howard Hodgkin, Ossie Clark. Everyone would sketch away in the garden."
A dancing legend – Dancer Wayne Sleep
In the world of dance there is no one quite like Wayne Sleep. He continues to build a legacy of excellence and support through the dance community. Although he may be remembered by many for his performance with Princess Diana, his many decades of work throughout the dance community will undoubtedly endure and he should be celebrated today as a true dancing great.
In an interview in 2014 he tried to outline why he'd made it as a dancer:  "I think that what made me resilient was that I knew I was good. I was coming first in all my classes. Why shouldn't I be getting a place in a company? Why shouldn't I achieve that? When everybody was putting me down I bounced back up… I gritted my teeth and went for it. I thought if I give up now after eight years of training I'll be depressed for the rest of my life. Tenacity was the thing that got me through."
One of the best ways to learn more about Wayne Sleep, and to celebrate his talent and tenacity, is to simply watch him dance. Thankfully, today there are hundreds of videos on Youtube where you can indulge in his gracious and precise movement, and marvel at his ability to dance at such a high standard over so many years.
Don't miss An Audience With Wayne Sleep at the Gatehouse Theatre – Book now
Wayne and Diana, as seen on The Crown (Netflix). But what really happened? Book now to hear all about it.
Book
Dates, Times & Book
A fascinating talk by a national treasure