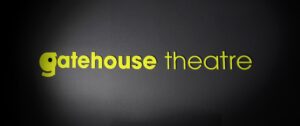 Here's what you need to know about your visit to the Gatehouse.
FACE COVERINGS
In light of Government advice, face-coverings are optional for theatre–goers. We ask that audiences respect our Front of House staff, who are working hard to ensure that theatres are a safe and welcoming place for all.
We clean and sanitise the buildings on a daily basis. The auditorium seating is regularly fogged with disinfectant spray and we keep the foyers and front of house areas naturally well ventilated.
The See it Safely mark gives audiences confidence that a theatre is operating in accordance with the latest guidelines.
BEFORE YOU COME
If you have any Covid-19 symptoms or have been advised to isolate, then please don't attend in person.
Let us know when you book if you have any access requirements. We'll make sure that those with disabilities have seating appropriate for their needs. Our cloakroom is closed, so you need to keep coats and personal belongings with you.
BAG CHECKS
At some performances, staff may carry out a contactless bag check. They might ask you to remove items from your bag to assist with this. Large bags won't be allowed into the theatre.
HAND SANITISING
There are hand sanitiser stations throughout our building.
Thank you all for your co-operation, it really is appreciated and we hope you enjoy the show!